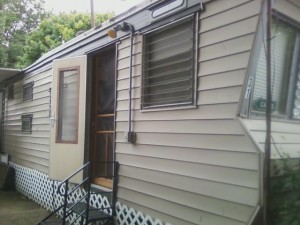 LOT MAINTENANCE: All lots must be kept free of weeds and regularly mowed. The park will furnish mowers, rakes, and other equipment for this purpose. Lots must be kept free of all trash, building materials and other litter (State Board of Health order). Electrical service cords must be below ground level and covered on the pole to service box (State Fire Marshall order). Management reserves the right to perform any of this work not properly performed by the tenant and to bill the tenant for the cost of this work. No permanent clothes lines or tents will be permitted on tenant's lot.
SALE/REMOVAL: When a unit is sold and is to be removed from Harbor Winds Marblehead RV Park, the tenant or new owner is responsible for remvoing all materials and rubbish from the lot so as to leave it in a move on condition for the next tenant. If Management is requested to provde this service, tenant will be billed for said service.
TRAILER RV MAINTENANCE: All trailers and fixtures (patios, antennas, etc.) are to be properly maintained. No patio will be permitted to be enclosed without prior consent from Management and any enclosure must abide by State Fire Safety Standards as defined by the Ottawa County Board of Health. The underside of each trailer must be concealed by an attractive skirting or fencing allowing for easy access to water and sewer lines. Winterizing must include unplugging electrical plugs and switching electric service to "off." RV anti-freeze only is to be used in sewer lines and toilets. No tobacco, sanitary napkins, disposable diapers or other foreign matter that could potentially clog lines is to be deposited in toilets or other drains. Cost to remove, unclog and/or repair sewer lines will be billed to the offending tenant. All free standing storage buildings or boxes must be made of fire retardant material. Storage buildings or boxes must be a minimum of five feet in any direction from the adjoining trailer or building. Contact Management for allowable sizes. Only one free standing unit permitted per lot. All storage sheds must have tie downs sufficient to secure structure during high winds.
LANDSCAPING: Arrangements for planting trees, shrubs, bushes, etc. may be made with Management. We encourage plantings that will not interfere with water or sewer lines or your neighbor's enjoyment of his lot.